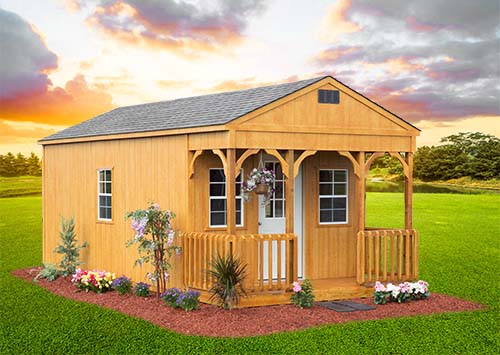 Purchase a Cabinette today
A Sunrise's Cabinette makes a great weekend cabin, office, or back yard studio. We are always looking out for the right solution. Great for Ranchers and Hunters. Available in larger sizes than the Cottages.
Need some help deciding what exactly you want? Contact us or stop by one of our locations and order your building today!
Pricing for Cabinette
Starting at $5,205 or $199 a month.
Size

(Ft.)

Price + Tax

36 Months

48 Months

60 Months

10×16
$5,205
$240.97
$216.78
$199.27
10×24
$7,440
$344.44
$309.87
$284.84
12×16
$6,106
$285.19
$256.56
$235.83
12×24
$8,625
$399.31
$359.23
$330.21
12×28
$9,755
$451.62
$406.29
$373.47
12×30
$10,335
$478.47
$430.45
$395.67
12×32
$10,740
$497.22
$447.31
$411.18
12×36
$11,735
$543.29
$488.75
$449.27
14×24
$9,960
$461.11
$414.83
$381.32
14×28
$11,220
$519.44
$467.31
$429.56
14×30
$12,115
$560.88
$504.58
$463.82
14×32
$12,690
$587.50
$528.53
$485.83
14×36
$14,315
$662.73
$596.21
$548.05
16×24
$12,480
$577.78
$519.78
$477.79
16×30
$14,595
$675.69
$607.87
$558.77
16×32
$15,760
16×36
$16,760
16×40
$17,935
16×44
$19,630
16×50
$22,040
16×54
$23,135
16×60
$25,255