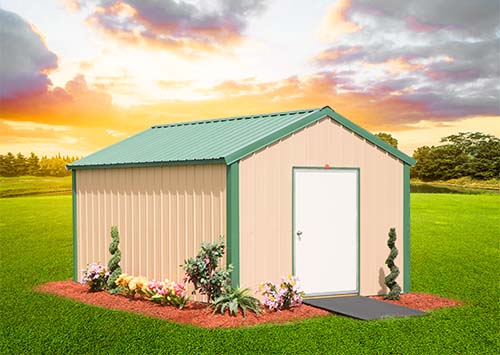 Purchase a Gable Metal Shed today
With our affordable monthly payment plan on the value line series you can store your stuff for less than mini storage. No more hassle of running across town. Just open the door of your quality structure on your own back yard and begin putting up Christmas lights!
Need some help deciding what exactly you want? Contact us or stop by one of our locations and order your building today!
Pricing for Gable Metal Shed
Starting at $3,015 or $115 a month.
Size

(Ft.)

Price + Tax

36 Months

48 Months

60 Months 

8×12
$3,015
$139.58
$125.57
$115.43
8×16
$3,660
$169.44
$152.44
$140.12
10×12
$3,800
$175.93
$158.27
$145.48
10×16
$4,465
$206.71
$185.96
$170.94
10×20
$5,475
$253.47
$228.03
$209.61
10×24
$6,330
$293.06
$263.64
$242.34
12×12
$4,755
$220.14
$198.04
$182.04
12×16
$5,540
$256.48
$230.74
$212.10
12×20
$6,520
$301.85
$271.55
$249.62
12×24
$7,605
$352.08
$316.74
$291.16
12×28
$8,690
$402.31
$361.93
$332.70
12×30
$9,200
$425.93
$383.17
$352.22
12×32
$9,530
$441.20
$396.92
$364.85
12×36
$10,675
$494.21
$444.61
$408.69
12×40
$11,880
$550.00
$494.79
$454.82
14×16
$6,350
$293.98
$264.47
$243.11
14×20
$7,940
$367.59
$330.70
$303.98
14×24
$8,830
$408.80
$367.76
$338.06
14×28
$10,375
$480.32
$432.11
$397.21
14×30
$11,145
$515.97
$464.18
$426.68
14×32
$11,890
$550.46
$495.21
$455.21
14×36
$13,270
$614.35
$552.69
$508.04
14×40
$14,870
$688.43
$619.33
$569.30
16×20
$9,830
$455.09
$409.41
$376.34
16×24
$11,015
$509.95
$458.77
$421.71
16×28
$12,220
$565.74
$508.95
$467.84
16×30
$13,345
$617.82
$555.81
$510.91
16×32
$14,175
$656.25
$590.38
$542.69
16×36
$15,400
16×40
$16,410
16×44
$17,870
16×50
$20,325
16×54
$21,590
16×60
$23,535