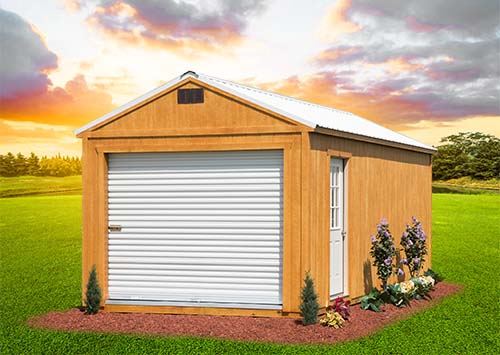 Purchase a Garage today
A Sunrise Shed Portable Garage makes a nice house for your vehicle, motorcycle, boat or turn it a organized roomy workshop. With the heavy duty floor, 9×7 garage door, and solid construction, your options are endless.
Need some help deciding what exactly you want? Contact us or stop by one of our locations and order your building today!
Pricing for Garage
Starting at Starting at $6,115 or $234 a month.
Size

(Ft.)

Price + Tax

36 Months
48 Months
60 Months
12×16
$6,115
$283.10
$254.69
$234.11
12×24
$8,720
$403.70
$363.18
$333.84
12×30
$10,185
$471.53
$424.20
$389.93
12×32
$10,660
$493.52
$443.98
$408.12
12×36
$11,145
$515.97
$464.18
$426.68
14×20
$8,625
$399.31
$359.23
$330.21
14×24
$9,920
$459.26
$413.16
$379.79
14×30
$12,270
$568.06
$511.04
$469.75
14×32
$13,335
$617.36
$555.39
$510.53
14×36
$14,865
$688.19
$619.12
$569.10
14×40
$15,800
14×44
$17,165
16×20
$10,080
$466.67
$419.83
$385.91
16×24
$11,085
$513.19
$461.68
$424.39
16×30
$13,850
$641.20
$576.84
$530.25
16×32
$15,370
16×36
$16,780
16×40
$17,335