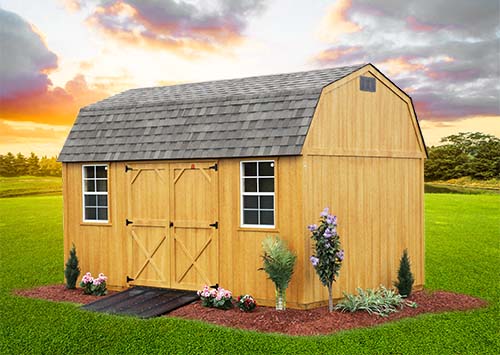 Purchase a Lofted Barn Side Entry today
The Spacious Lofted Barn provides you with a versatile storage solution. With almost double storage space, you can store you large lawn and garden equipment below, while the loft above provides you with the place to store your Christmas decorations.
Need some help deciding what exactly you want? Contact us or stop by one of our locations and order your building today!
Pricing for Lofted Barn Side Entry
Starting at $3480 or $133 a month
Price shown does not include windows.
Size

(Ft.)

Price + Tax

36 Months

48 Month

60 Month 

8×12
$3,480
$161.11
$144.94
$133.23
8×16
$4,325
$200.23
$180.13
$165.58
10×12
$4,115
$190.51
$171.39
$157.54
10×16
$4,920
$227.78
$204.91
$188.36
10×20
$5,910
$273.61
$246.15
$226.26
10×24
$6,960
$322.22
289.88
$266.46
12×12
$5,065
$234.49
$210.95
$193.91
12×16
$6,010
$278.24
$250.31
$230.09
12×20
$7,135
$330.32
$297.17
$273.16
12×24
$8,450
$391.20
$351.94
$323.51
12×28
$9,505
$440.05
$395.88
$363.90
12×30
$10,270
$475.46
$427.74
$393.19
12×32
$10,800
$500.00
$449.81
$413.48
12×36
$12,230
$566.20
$509.37
$468.22
12×40
$13,495
$624.77
562.06
$516.65
14×16
$7,235
$334.95
$301.33
$276.99
14×20
$8,725
$403.94
$363.39
$334.04
14×24
$10,385
$480.79
$432.53
$397.59
14×28
$10,985
$549.31
$494.17
$454.25
14×30
$12,620
$584.26
$525.61
$483.15
14×32
$13,320
$616.67
$554.77
$509.95
14×36
$14,980
$693.52
$623.91
$573.51
14×40
$16,420
16×20
$9,860
$381.25
$342.98
$315.28
16×24
$11,600
$456.48
$410.66
$377.49
16×28
$13,180
$537.04
$483.13
$444.10
16×30
$14,140
$610.19
$548.94
$504.59
16×32
$14,840
$654.63
$588.92
$541.35
16×36
$16,595
$687.04
$618.08
$568.15
16×40
$18,135
16×44
$19,570
16×50
$22,755
16×54
$23,915
16×60
$26,290