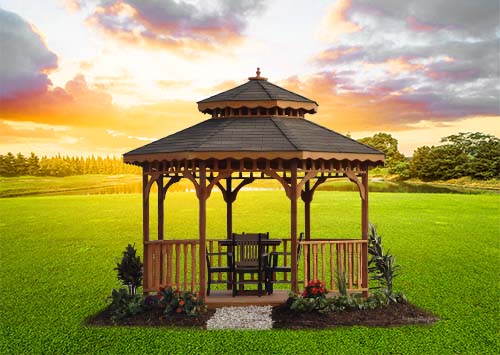 Purchase a Regular Gazebo today
A Sunrise Shed Gazebo is sure to please the family and wow the neighbors. Beautifully handcrafted, each of our Gazebos is designed with your outdoor enjoyment in mind.
Need some help deciding what exactly you want? Contact us or stop by one of our locations and order your building today!
Pricing for Regular Gazebo
Starting at $4,790 or $183 a month.
Size

(Ft.)

Price + Tax

36 Months

48 Months

60 Months 

9×9
$4,790
$221.76
$199.50
$183.38
12×12
$6,765
$313.19
$281.76
$259.00
14×14
$8,000
$370.37
$333.19
$306.28
16×16
$11,775
$545.14
$490.42
$450.80