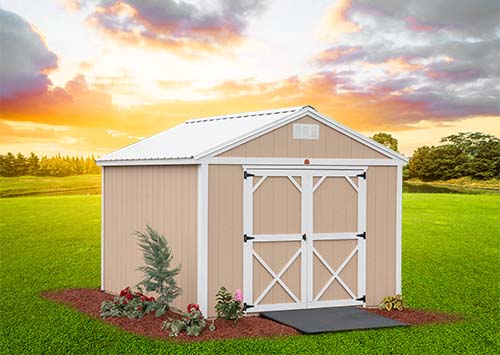 Purchase a Utility today
Enhance your back yard with a Sunrise's Utility Building. Create a back yard workshop, store your lawn equipment and keep your tools dry with this simple design.
Need some help deciding what exactly you want? Contact us or stop by one of our locations and order your building today!
Pricing for Utility
Starting at $3,015 or $115 a month.
Size

(Ft.)

Price + Tax

36 Months

48 Months

60 Months 

8×12
$3,015
$139.58
$125.57
$115.43
8×16
$3,660
$169.44
$152.44
$140.12
10×12
$3,800
$175.93
$158.27
$145.48
10×16
$4,465
$206.71
$185.96
$170.94
10×20
$5,475
$253.47
$228.03
$209.61
10×24
$6,330
$293.06
$263.64
$242.34
12×12
$4,755
$220.14
$198.04
$182.04
12×16
$5,540
$256.48
$230.74
$212.10
12×20
$6,520
$301.85
$271.55
$249.62
12×24
$7,605
$352.08
$316.74
$291.16
12×28
$8,690
$402.31
$361.93
$332.70
12×30
$9,200
$425.93
$383.17
$352.22
12×32
$9,530
$441.20
$396.92
$364.85
12×36
$10,675
$494.21
$444.61
$408.69
12×40
$11,880
$550.00
$494.79
$454.82
14×16
$6,350
$293.98
$264.47
$243.11
14×20
$7,940
$367.59
$330.70
$303.98
14×24
$8,830
$408.80
$367.76
$338.06
14×28
$10,375
$480.32
$432.11
$397.21
14×30
$11,145
$515.97
$464.18
$426.68
14×32
$11,890
$550.46
$495.21
$455.21
14×36
$13,270
$614.35
$552.69
$508.04
14×40
$14,870
$688.43
$619.33
$569.30
16×20
$9,830
$455.09
$409.41
$376.34
16×24
$11,015
$509.95
$458.77
$421.71
16×28
$12,220
$565.74
$508.95
$467.84
16×30
$13,345
$617.82
$555.81
$510.91
16×32
$14,175
$656.25
$590.38
$542.69
16×36
$15,400
16×40
$16,410
16×44
$17,870
16×50
$20,325
16×54
$21,590
16×60
$23,535